Sláinte to Summer
It may not feel like summer anywhere else across America but it's early May in Arizona and it's already triple digits. I don't care what anyone says but that kind of heat warrants a cooling cocktail at any hour.
Okay, maybe not any hour, but when appropriate you better believe I'm shaking up something delicious and over ice.
Paired with a groovy playlist and a freshly skimmed pool, these cocktails are perfect for your next gathering of the gang.
Summer Cocktail Series
Blueberry Ginga' Lemonade
Muddle a handful of blueberries in a shaker tin
1.5 ounces vodka // I used OHSO brewery's meyer lemon vodka
.75 ounce lemon juice
.75 ounce ginga' syrup from Iconic Cocktail
.5 ounce simple syrup
shake with ice // pour into rocks glass and top with sparkling lemon water or a Prosecco float if you're really trying to turn up // garnish with lemon twist or wheel if you're fancy.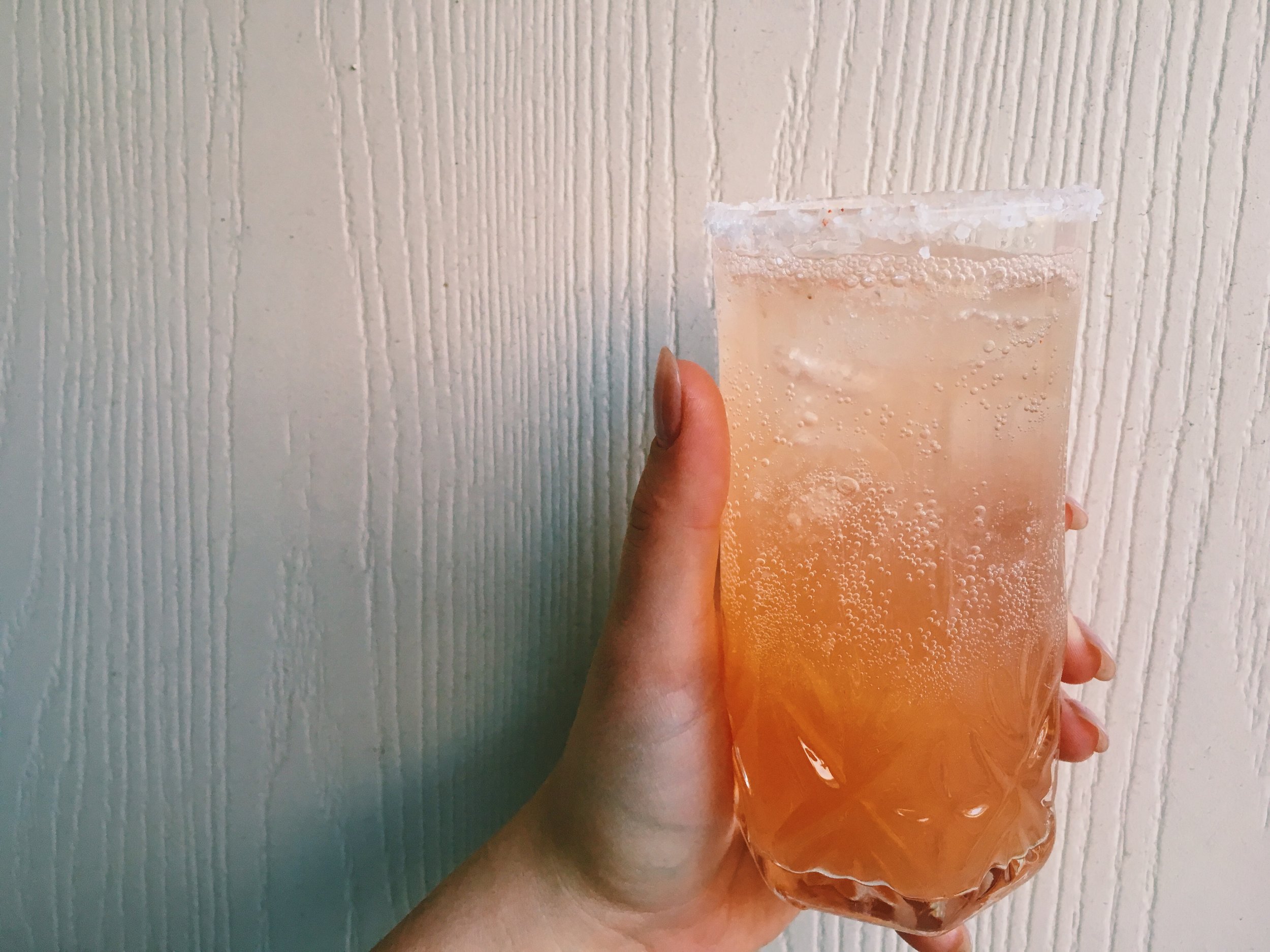 Yo' Girl's Paloma
1.5 ounces reposado or blanco tequila // I used Three Amigos
.75 ounce grapefruit juice
.5 ounce lime juice
.75 ounce grapefruit fleur de sel syrup again from Iconic Cocktail
3 dashes angostura bitters
shake with ice // pour into a salt-rimmed collins and top with grapefruit sparkling water (Pamplemousse La Croix does nicely or grapefruit Jarritos for the soda lovers)
"make sure to translate it for the white people"
Rooftops over Jamaica
1.5 ounces spiced rum // I use Kraken Spiced Rum
.75 ounce Calvados
2 ounces of jamaica (hibiscus) agua fresca // check out my agua fresca back recipe
.5 ounce meyer lemon balm syrup from Iconic Cocktail
shake with ice // serve in collins glass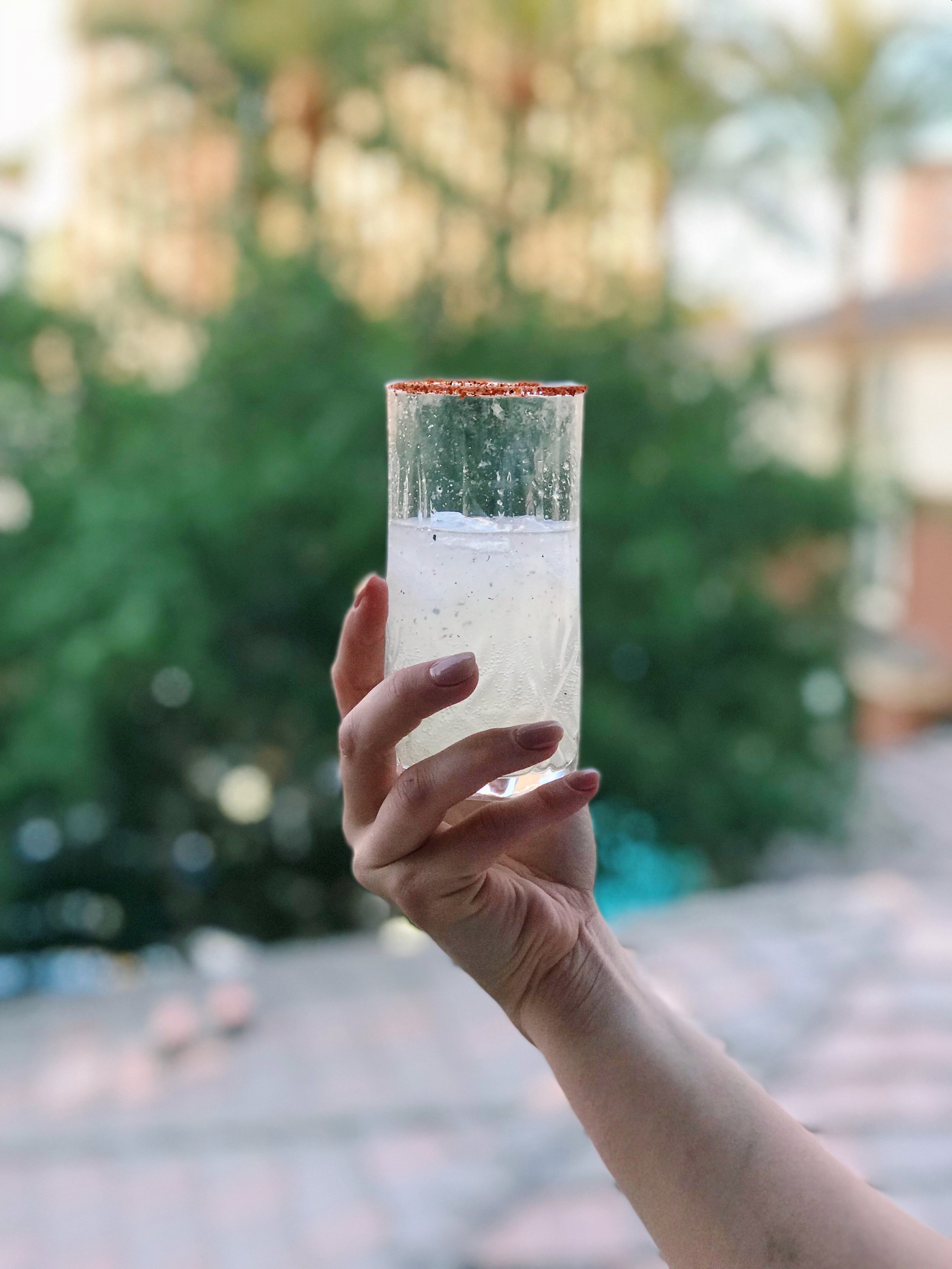 In case you didn't notice
I couldn't wait to photograph, so here's a photo of an already enjoyed cocktail.
Pep in Ya' Step
1.5 ounces gin ( big fan of Hendrick's or St. George's Terroir Gin)
.75 ounce lime juice
.5 ounce simple syrup
3 cracks of black pepper
shake with ice // serve in tajin rimmed collins glass and top with key lime soda water (currently obsessed with it)
Leave Melon, I'm Tanning
Muddle two - three basil leaves
1.5 ounces of whiskey // I used peach whiskey by OHSO Brewery for a tropical flavor
.75 ounce lime juice
.5 ounce simple syrup
3 ounces of blended cantaloupe // I buy juice with pulp so you can trust that I don't strain (totally chill if you're against it though)
shake with ice // serve in a rocks glass